During the odd times in U.S. history, when an election ended in a tie between the candidates, tie breakers became quite inventive. One of the more successful methods began in Iowa, when in 1874 the two contesting parties agreed to a cookoff. Jim Thompson's strawberry shortcake trounced Ron Moore's fudge and led him to the Senate.

Although a number of other methods were tried, cookoffs returned in 1888 (Georgia) and 1902 (Kansas). Today we have a tie in the U.S. Senate election of New York State, which leads us to . . .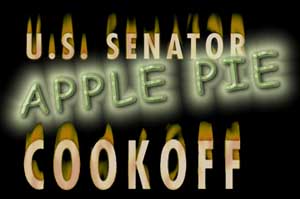 At this moment Hillary Clinton is explaining her cooking methods to the distinguished members of the Select Committee on the Oversight of the N.Y.S. Senatorial Cookoff.





The pie is nearly ready, and there is a delicious aroma in the air. There's no doubt that Giuliani left room for the first lady, since all agreed that his pie was rather runny. Does Clinton have the right stuff to be a senator?