| | |
| --- | --- |
| A Stroll by Toftrees Pond | September 19, 2009 |
---


Generally, I try to group bird photos into similar species, but the other day I had a particularly good walk by the Toftrees pond, so I thought to show the birds of the day. That was on Monday, September 14, 2009, when Sue went to her shift at PAWS and I didn't have the strength to face the cats on my own.

The walk began rather quietly, but as I was approaching the pond, I saw a hawk in the distance. I got a few distant shots and identified it as a Cooper's hawk. After I reached the pond, the Cooper's hawk flew several loops overhead.


I noticed that the great egret, which tends to hang out at the farther sides of the pond, was perched on a stump in the center of the pond.





Shortly thereafter an osprey flew from the pond and did several loops overhead.





That, by my personal definition, was already a truly good day by the pond, but then I noticed an eagle in the distance.

The juvenile bald eagle also did a number of loops, ascending, but it slowly came closer to me. The eagle was still rather far away before it disappeared, but there's no doubt about its identification.





Definitely a good walk.

As a complement to the previous photo, two days later I photographed an adult bald eagle that flew across the center of the pond before disappearing among trees.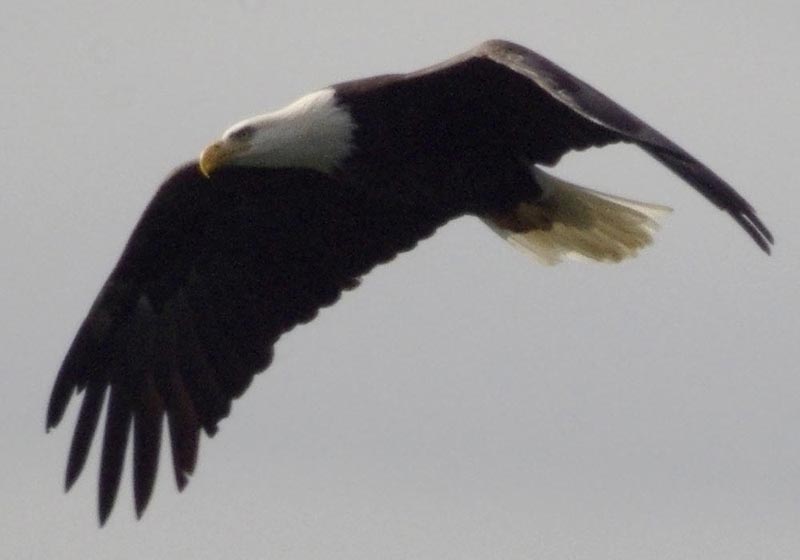 That makes four bald eagles that I photographed by the Toftrees pond this autumn. In the four years previous, Sue had seen a single bald eagle, but I didn't go out that day, to my regret. This year makes up for all that.

Photo note: For the first four photos I used a Pentax K20D, with the SMC-A* 300mm lens with the Pentax 1.4x multiplier. I regret to say that my old 300mm lens is showing signs of age, and the aperture doesn't function particularly well anymore: It tends to overexpose. The final photo was taken with the Pentax K200D with the SMC 1000mm reflex lens.
---
My Pennsylvania bird list | Another Toftrees bald eagle