Tim Fuller: Coco


| | |
| --- | --- |
| | What I truly enjoy about knowing Tim Fuller is that he's more than capable of surprises. For instance, he has taken to laminating pipes with contrasting wood. Thus let me present you to Coco: |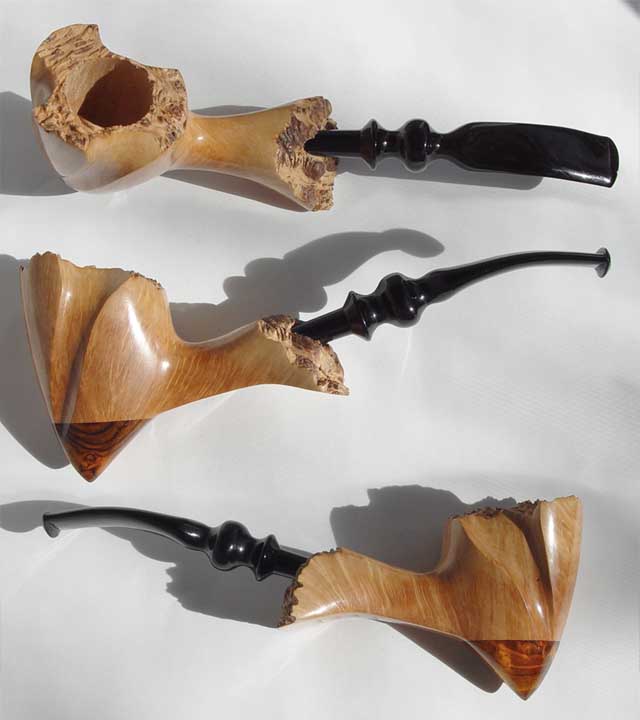 What you're looking at is a merging of briar and cocobolo, which is a species of rosewood that grows in South and Central America. The combination of deep, curving grooves and cocobolo makes the pipe highly distinctive.

It makes you wonder why other pipe makers don't try wood combinations. Of course, there is always the fear that the bottom, so to say, of the pipe would fall off. To that end, I'm presently indulging in a torture test of Tim's standards. (By torture, I mean smoking the pipe several times in a single day; it happens while I'm traveling too.)

Thus far (after a half-dozen smokes in a single day) the pipe has held together. And although the right upper wall tends to be thin toward the top of the bowl, there are no signs of burn through. A very superior pipe!

And if you'd like a larger detail of the bowl, it's right here.



Tim Fuller pipe pages 1, 2, 3, 5, 6, 7, 8, 9, 10, 11, and 12 | TCFuller Pipes site
Look Out! | Pipe & tobacco links