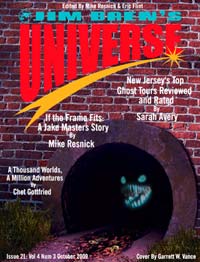 "A Thousand Worlds, A Million Adventures," Jim Baen's Universe, October 2009, pp. 44-52 (of the pdf version). Eric Flint and Michael Resnick, Editors (and Paula Goodlett, Managing Editor). Baen's Universe is a bimonthly e-magazine with a terrific selection of stories, but it's going to be closing down in 2010. Get the magazine while you can!
The science fiction story concerns a travel agent (someone has to book flights to other worlds). As in so many of my stories, it isn't a question of "What if?" as much as "What can go wrong now?"
Funny how things happen. I had mentioned to Paula, when the issue first came out, that the pdf version didn't look too good; I could do better. She said go ahead, and I did. In one day, so my composition work is a little rough on the edges, but the issue came out looking very respectable.

"The Restaurant of Dr. Martin," Town & Gown, February 2009, pp. 50-53. David Pencek, Editorial Director. A glossy magazine local to State College, Town & Gown is truly high class, and a pleasure to be included in it. February is the annual fiction issue, and my story won in one of four categories. On February 12, 2009, the four winning stories from the February issue were read at the Schlow Centre Region Library, State College, forTown & Gown's Masters of Fiction Coffeehouse.
My story won in the category of "One Fine Day in Happy Valley" (and you have to live in State College to appreciate its nickname "Happy Valley"). My one fine day occurs in a restaurant, and it combines a satire of H.G. Wells' The Island of Dr. Moreau with a murder mystery.

"Modern Monotremes," Space and Time Magazine 104, Summer-Fall 2008, pp. 22-26. Hildy Silverman, Editor in Chief; Gerard Houarner, Fiction Editor; and other editorial staff. Space and Time Magazine is one of the oldest sf magazines around, having already printed over a hundred issues. I've known and been in the magazine years back, and it's a treat to be in S&T again with a new publisher.
My story takes a look into the far future at a colonizing spaceship on which specially developed women help populate new worlds. The story involves a contest, deceit, and so forth. (The iMirror is a lot of fun.)

"A Perfect Foot," Withersin Magazine, death issue 1.3, 2008, pp. 33-40. Misty Gersley, Editor. Withersin is a beautifully designed print magazine, devoted to horror, and has an extensive website well worth visiting. The magazine is available online at its website and (by the end of April 2008) at various bookstore chains.
My story involves an odd occurrence in a public school run by less than desirable characters with less than desirable students. It's good fun if in poor taste.

"Home, Home on the Brain," Serpentarius Magazine, vol. 1, no. 1, 2008; N. E. Dix, Editor (with other editors). Serpentarius only lasted for a single issue (its website was hacked twice), but I'm making that issue available here (since distribution was free).
"Home, Home on the Brain," explores everything that can go wrong with a bar date, especially during an alien invasion.

"Amoeba Rules," AlienSkin Magazine, February-March 2008; Katherine A. Patterson, Senior Editor (and there are also a number of other editors and columnists). AlienSkin was a splendid (and free!) web magazine featuring fantasy, science fiction, and horror stories, as well as columns and articles, and I'm happy that my story was part of the magazine. (There may be a future anothology of stories that had appeared in AlienSkin.)
The "Amoeba Rules," takes as its premise what if being an amoeba was the only way to fly, so to say.

"Mrs. December, 1636," Grantville Gazette, July 2007 (issue 12), edited by Paula Goodlett. The Grantville Gazette is a new and not new e-magazine. Although it has already been around for ten issues, the May issue (number 11) will be the first with which it started paying pro rates.
The Gazette has a unique place in science fiction, because it is devoted to the 1632 universe created by Eric Flint, beginning with his novel 1632. The underlying theme of this universe is that of a small West Virginian town being transported back in time to the 1630s and into the middle of Germany. The stories involve cultural shock (20th century meeting 17th century and vice versa) and "new" 20th-century technology, combining history and fun. Europe has been distracted by the Thirty Years War, and the West Virginians become an even larger distraction.
My story "Mrs. December, 1635," is about the expected and unexpected events involved in a trip to Amsterdam . . . and a calendar.

"Dino Egg, $6," Jim Baen's Universe, April 2007, edited by Eric Flint (and assistant editor Paula Goodlett). Baen's Universe is an e-magazine, which started in June 2006. It's quite a treat, for both readers and writers (for the range of stories and, hey! it pays well). For me, it was a moment of high exitement, because it represents my third professional sf sale.
For the story, Eric Flint had requested a revised ending. That made me nervous. The last time anyone requested a pro story revision from me was about 40 years ago when I was still in college, and I flubbed it. This time around Eric accepted the revision but made what he called a few tweaks. He mentioned that I might try something different, but after 30 years of freelance editing, I know a good tweak when I see one. And I'm really very pleased and happy with the story.

"The Rings of Mars" OG's Speculative Fiction, number 3, 2006, pp. 12-23. OG's Speculative Fiction is edited by Seth Crossman, and the PDF publication is presently available as a free download.
"OG" is an acronym for "opinion guy," and Seth does have opinions. His magazine is well worth a look.
Seth Cross had requested an extended ending for my story (to resolve a character relationship), which I was happy to write. (What is it with editors, me, and extended endings, anyway?)

"The Corner Chandler," in Deep Magic, June 2006, pp. 10, 24-27. Deep Magic was an electronic magazine but stopped publication in June 2006, which is unfortunate, as it was exceedingly well done; however, the last issue (with my story) is available via the link on the magazine's name.
As for my story, it's a fantasy that can best be described as a collision between an Icelandic saga and Harvey Jacobs.

"Body Hunt," in Ramsey Campbell, host, and Adèle Hartley, curator, Read by Dawn, volume 1, Bloody Books (an imprint of Beautiful Books, UK), 2006, pp. 227-35. Read by Dawn is a handsomely produced book, so I am particularly happy to be included in it, as well as in the company of fine authors. The book is a tie-in with an international horror film festival, "Dead by Dawn" (in Edinburgh, Scotland), which is run by Adele Hartley.
An inversion of all the mores I could think of, "Body Hunt" has a father helping his son complete a school project. I thought my story very funny; in his introduction, Ramsey Campell calls it grim; so much for my sense of humor.

"Bonding," in S. A. Parham and W. Olivia Race, eds., Southern Comfort: A Charitable Anthology, 2005, pp. 69-76. Mine is an upbeat fantasy story, set in the modern day. A fellow loses and finds his cats as well as love.
"Proceeds from the anthology will be donated to the American Red Cross . . . to help people rebuild their lives in the regions affected by Hurricane Katrina in 2005."

"Patient Virtues," in Mike Philbin, ed., Chimeraworld 3: Twenty-three Tales of Spiritual Decay, Chimericana Books (UK), 2005, pp. 51-56 [available as print on demand or as a pdf]. My story stems from an extended dream, and as such, I changed the language pacing to reflect that. It has a certain rhythm which one normally doesn't encounter. The story also received an honorable mention from the Writers of the Future Contest.

"Two by Two," Aboriginal Science Fiction, spring 1993, pp. 108-112. On a colony spaceship, many humans have been transformed into animals to save space.

The Steel Eye. Space & Time Books, 1984. My first published novel. Several years ago I wrote a few thoughts about it, and there's a review here. Gordon Linzner of Space and Time is still selling it.

"The Royal Split," Raven (UK), no. 8, spring-summer 1981, pp. 24-25. More a prose poem than story, it's about a head rolling off a monarch. Included are two of my illustrations.

"My Summer Vacation," Pig Iron, no. 4, 1978, pp. 74-76. A tale about a very unusual summer camp. Later, Pig Iron published a science fiction story of mine.

"The Steel Works," Isaac Asimov's Science Fiction Magazine, summer 1977, pp. 135-40. My first professional sale featured my robot detective, later published in The Steel Eye.

"A Winged Shadow," Wyrd, no. 5, 1975, pp. 24-30. I don't remember the story, but Greg Stafford, the editor, went on to fame in his own RPG world.

"Songs of Carlotta," Aspect: Poetry, Fiction, Reviews, no. 60, 197?, pp. 9, 11. My first published prose poem.

"George," Dramatika, 197? My first published play, which took up perhaps a third of the issue.

And then there is a whole miscellany. American Dane was a favorite magazine, for which I wrote about a dozen articles, illustrated two covers, one calendar, and, for a few years, had a monthly children's drawing. Of my cartoons and illustrations that have appeared in various small presses, one of my best venues was the tabloid Pulp (edited by Howard Sage), for which I used to have the centerfold, allowing large artwork (i.e., 15 by 20 inches or so). That was a lot of fun.