The Fairyland Castle
Bryce Canyon National Park
Sept. 1999
---


The basic rock formation at Bryce Canyon (in Utah) is the hoodoo, a naturally carved pillar pointing into the sky, not unlike Nature's hand in attempting an Easter Island statue. However, hoodoos at Bryce tend to cluster in groups numbering in the hundreds if not thousands. The cumulative appearance of such hoodoos is otherworldly, such as at the castle along the Fairyland loop.





The castle is known by a variety of names, including "Boat Mesa" and the "Chinese Fortress." To me, it will always be the Fairyland Castle, a cascade of towers. The photo above shows the overall view. If you have patience or a fast modem, click on it to see the 136K version of this 20mm photo. It's a magnificent castle along incredible country. Alternatively, the photo below shows a more detailed view of the castle itself.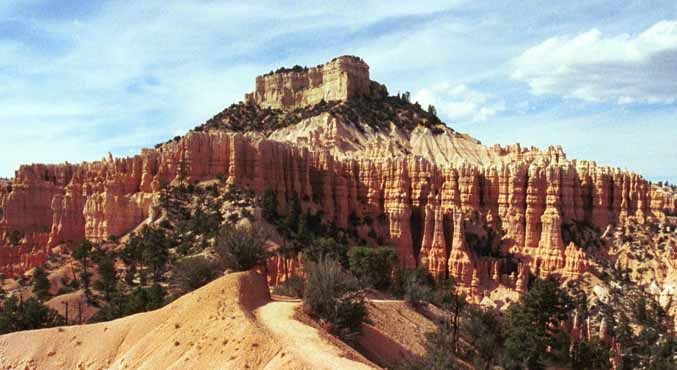 Arriving at this particular viewpoint isn't as easy as many of the other such places at Bryce. The Fairyland loop is a walking trail some 8 miles along. The maximum change of elevation while walking is listed as 750 feet, but a hiker will be going up and down much more than that, which can make the 8 miles feel longer than they are. As a walk, though, the Fairyland loop is well worth it: a visual treat.

The name "Fairyland Point" is said to be due to all the wonderfully shaped hoodoos in the area. Even so, I suspect another origin to the name. To be by Fairyland Point on a windy day is to hear uncanny music (with many holes in the hoodoos there), and the sound alone is conducive to its being called Fairyland.

Photography note: The photo was taken with a Pentax P3 and a 20mmF2.8A lens; it could be subtitled, "How the 20mm became my standard lens."

---
Lightning by Bryce | Fairyland Castle enlargement
Zion National Park | Petrified Forest National Park