Hickman Bridge: 3 Views
Capitol Reef National Park
June 2003
---
| | |
| --- | --- |
| | If you saw my earlier page on the hike to the Hickman Bridge, in Capitol Reef National Park, I promised to show the natural bridge itself, and so here are three dramatic views of the arch: |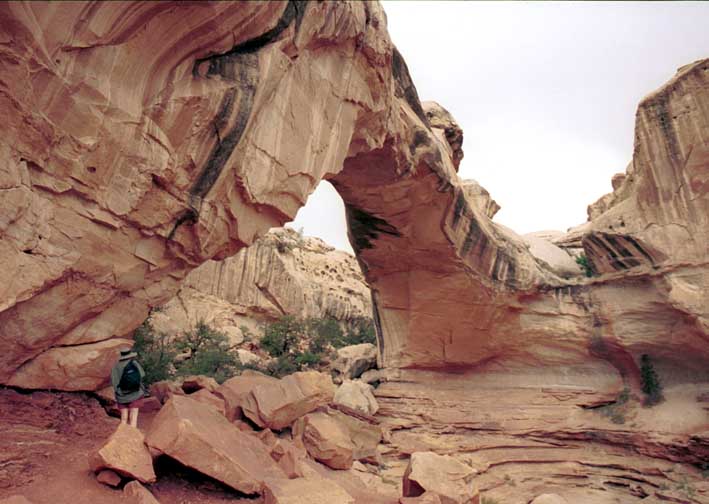 For those who would enjoy calculating the size of the arch, Sue is 5 feet, 4 inches, tall, or 163 cm, if you prefer metric.

In terms of facts, the bridge has been named after a Utah legislator, Joseph S. Hickman, who contributed much time and effort in helping make Capitol Reef a park. To help appreciate the significance of having an arch in anyone's name, standing under the arch and staring at a ribbon of stone across the sky is awesome.




The view through the arch upon leaving it (in the recommended trail direction) is perhaps more beautiful than the approach. Whatever. It's always a good idea to take a little time to see the way by which we've come.





Answer (if anyone attempted the calculation): The span is 133 feet (4054 cm).

Photography note: The photos were taken with a Pentax LX and the SMC-A 20mm lens.

---
Capitol Reef: Hickman Bridge trail
Capitol Reef: Lizards | marmot | Fossilized puzzle
Bryce: gold mantled ground squirrel | Bryce Point