Robyn Graboski
and Centre Wildlife Care
Jan. 14, 2011


Wildlife rehabiliation is process of rehabbing animals so that they can be returned to the wild, and each state in the United States has a small number of licensed wildlife rehabilitators. They are volunteers - and incredibly dedicated in their good work.

The local wildlife rehabilitator in State College, Pennsylvania, area is Robyn Graboski, who is the founder and director of Centre Wildlife Care (CWC), a nonprofit, all-volunteer organization (funded solely by donations and receives no funding from local, state or federal agencies). How she manages the number of animals she has is amazing, and November is a "slow" time of year.

On November 22, 2010, Sue and I visited Robyn so that I could photograph the release of a great blue heron.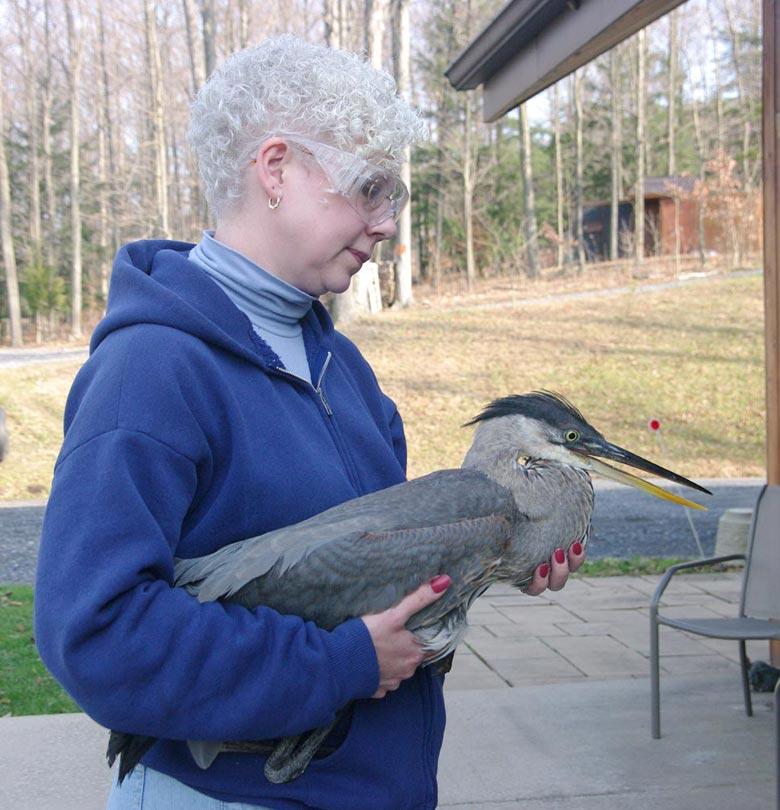 Unfortunately, the heron had a breathing problem, and Robyn sent it to another facility that had more resources.

Subsequently, Robyn gave us a tour of CWC. Some of the birds and animals she has cannot be released (either from injury or other reason), and she keeps those for educational purposes. Kay the kestrel is an example (she has birth defects on her feet which is a typical birth defect from toxins in the environment).
| | |
| --- | --- |
| | Sammy the tiny saw-whet owl is another one who is kept on and who often becomes part of Robyn's displays and lectures. |
| | |
| --- | --- |
| | Beatrice, the leucistic robin, is not a true albino but is missing enough natural pigments to keep him all white. (Originally thought to be a she, Mr. Beatrice turned out to be a "he.&quot) |
| | |
| --- | --- |
| | Robyn's current project is building a mammal condo. |


When spring comes, Robyn is inundated with many babies that need a place of safety before they can be released.

Photo note: I used a Pentax K20D, with the SMC-DA 16-45mm zoom lens.

---
Visit Robyn's CWC site, and discover much great and useful information,
as well as the possibility of sponsoring a favorite animal.
Robyn also has an album of all the wildlife she has cared for in the previous year.
Or, on my site, say hello to Isis, Robyn's peregrine falcon.
Robyn has an annual event at the Penn State Ag Arena for which I have photo tours:
Wild About Animals 2009 | Wild About Animals 2010