An Aerial Duel
Raven versus Red-Tailed Hawk
October 31, 2010


It was a fairly active day at Jo Hayes Vista (with over fifty redtails flying overhead in four hours), but the highlight of the day was a duel between a raven and an adult red-tailed hawk.

I've a sequence of seven photos showing the two of them (and then they dropped below the treeline).






The photo above is the redtail's uh-oh moment and the realization that there's trouble overhead.

Next, the hawk tries to maneuver away, and it looks like both birds are flying vertically.






The redtail cannot fly faster than the raven.

Incidentally, considering how both of them are approximately the same size, I'm assuming that the redtail is a male. (A female redtail would be larger.)






Both of them are upside-down!





And then there's another race.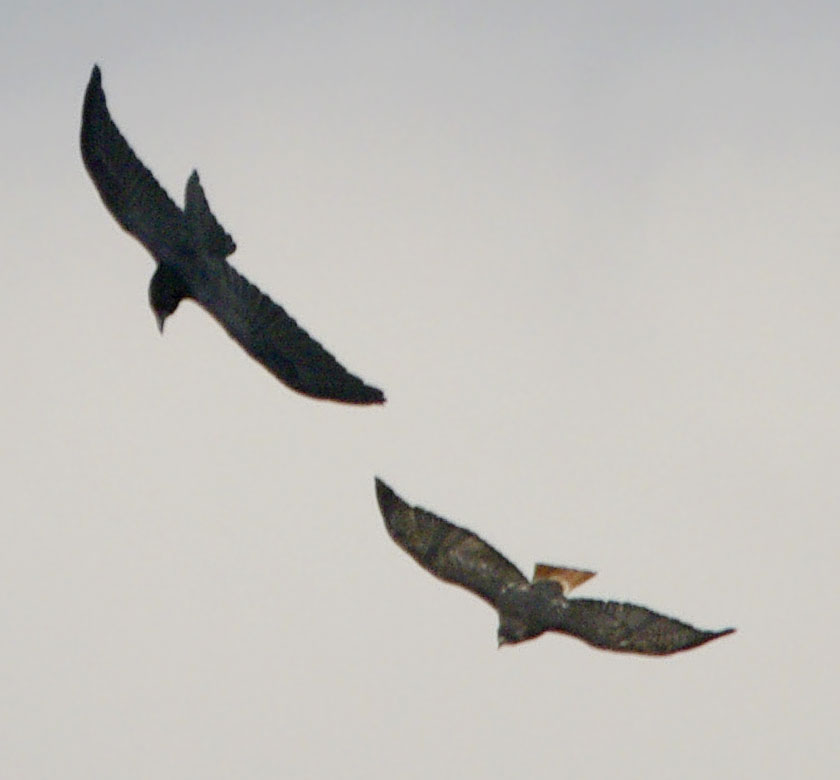 Wheeeee! Upside-down flying is truly remarkable.





And then the two dropped down out of sight.





Of course I wish I knew how it ended, but what a beautiful display between the two.

Photo note: I used a Pentax K20D, with the Sigma 150-500mm lens for these photos, which were taken today, 31 October 2010.

---
A day hawk watching from 2008 | An eagle collection from fall 2008
My State College, Pennsylvania, photo bird list (including hawks)